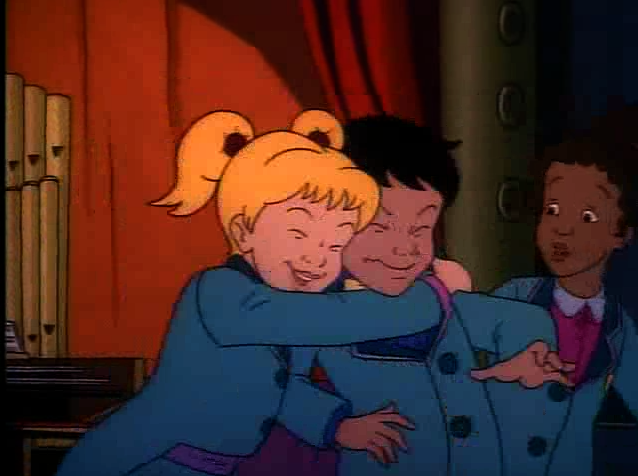 The S.S. Starstuck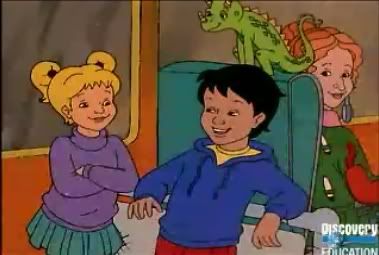 Carlos Ramone and Dorothy Ann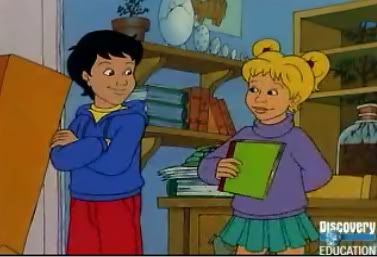 The C/DA Starter Kit:
- A model of Saturn (Gets Lost in Space)

- A bucket of sand and a plastic crab to go with it (Gets Eaten)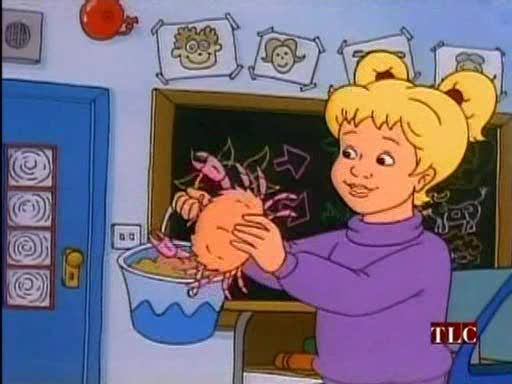 - A paper mache volcano; vinegar and baking soda included (Blows its Top)

- A copy of DA's book on volcanos (Blows its Top)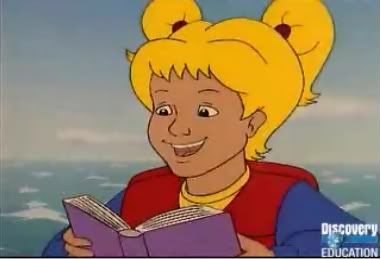 - A copy of "Discovery of Lizard Island" by D.A. and Carlos, or Carlos and D.A. if you prefer (Blows its Top)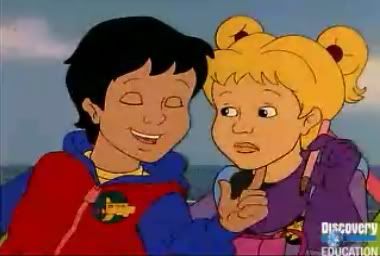 - A model of Carlos' Instrument - (the one he made in "Inside the Haunted House" you perverts! :p) (In the Haunted House)

- A chocolate cake recipe (Gets Ready, Set, Dough)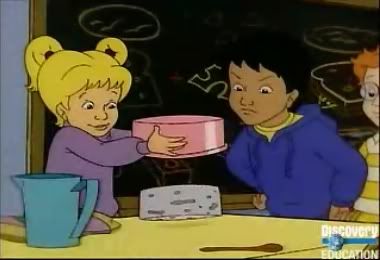 - A model of an asteroid (Out of This World)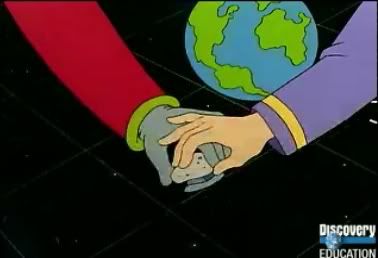 - A prism and a flashlight (Makes a Rainbow)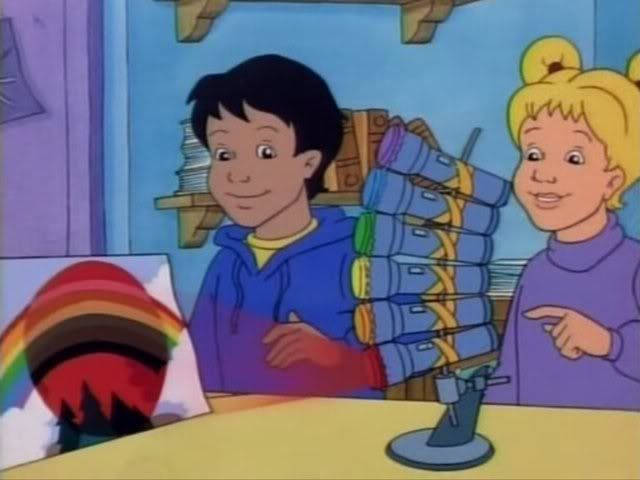 - A purple (or violet!) book cover (Makes a Rainbow)

- A stuffed falcon doll (In the City)

Why "S.S. Starstruck?"

Because D.A. is an astronomy nut, and Carlos fully supports her with a high five in "Out of This World". Credit for the ship name goes to EverAfter153. Other possible name for this ship: "Chocolate Cake".
Official Ship Color


Violet - no purple - violet! Purple...
Official Ship Animal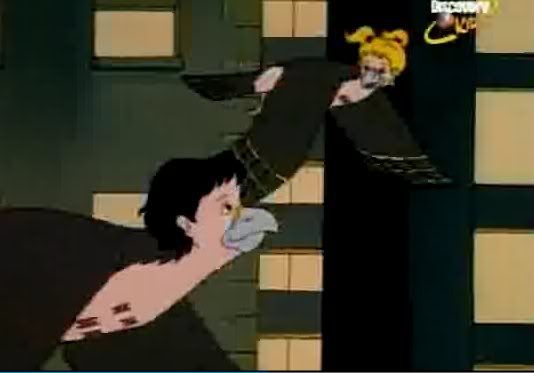 The Falcon
Official Ship Bug:


Spider
Official Ship Food: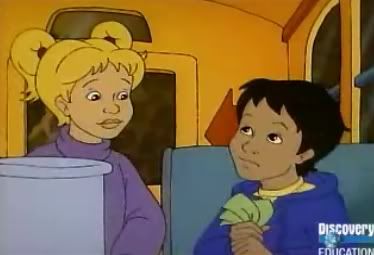 Chocolate Cake
Ship Quotes:
DA: Carlos, that was the perfect sound! *hugz*
~
Carlos: DA, you are one brilliant chemist! *hugz*
~
D.A: Like you and me, they [colour and light] have nothing in common.
Carlos: Says who?
~
DA: and all because of my purple book!
Carlos: violet Dorothy Ann, violet
DA: *giggles*
~
Carlos: What would you call it? The "According to My Research Island?"
~
Arnold: Stop! I can't take it anymore. You HAVE turned into Dorothy Ann.
Carlos: But Arnold, it's all here in this book!
~
Carlos: According to my research...
~
Carlos: According to the Shrinkoscope...
~
Carlos: You mean, Carlos and D.A
D.A: No, D.A and Carlos.
Carlos: CARLOS and D.A
D.A: D.A and Carlos...


Reasons for Carlos/D.A.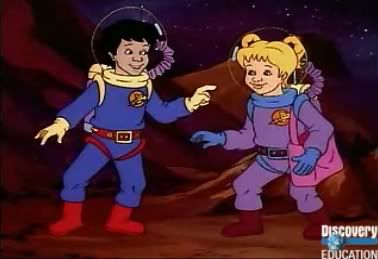 01. Because he bet he could jump higher than her, and she leapt at the challenge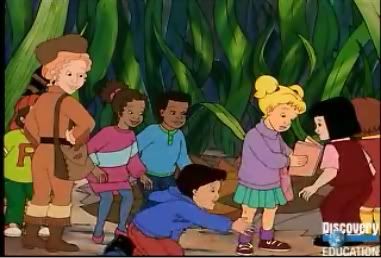 02. Because he thinks she's something juicy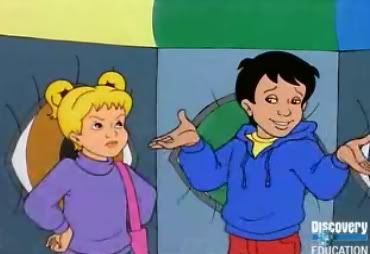 03. Because it's violet, not purple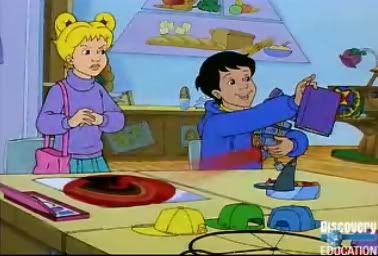 04. Because it's purple, not violet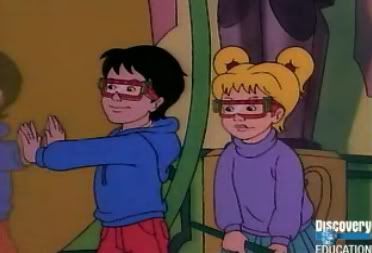 05. Because he made the perfect sound for her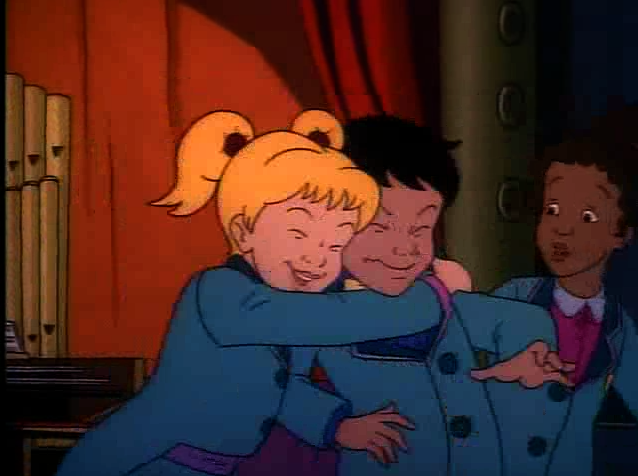 06. Because she wasn't afraid to hug him in front of all her friends and family

07. Because he thinks she's an amazing chemist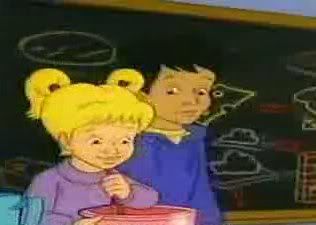 08. Because their chemistry is freaking undeniable

09. Because he hugged her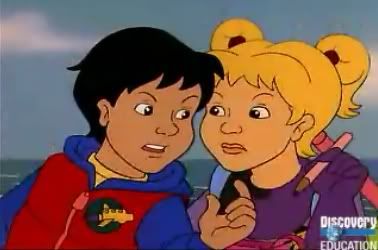 10. Because he thinks it should be Carlos and DA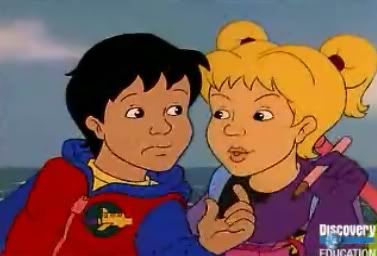 11. Because she thinks it should be DA and Carlos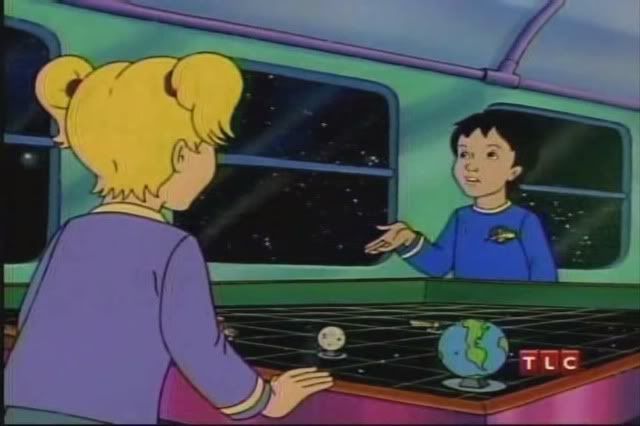 12. Because she wanted to go with him in that space pod

13. Because they can reach compromises

14. Because they liked being in each other's shoes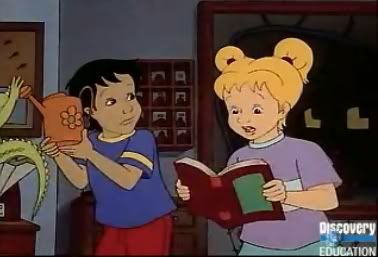 15. Because they learn from each other

16. Because, like colour and light, they have more in common than they first thought

17. Because, according to our research, they're just too damn obvious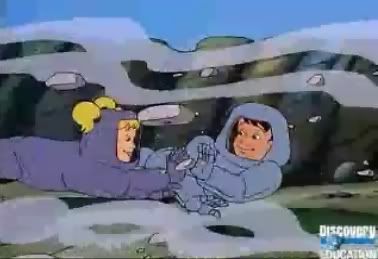 18. Because when she said "E-road to ruin" he was proud and high fived her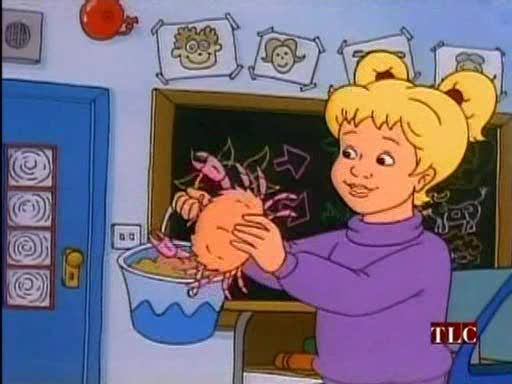 19. Because they go together like sand and a crab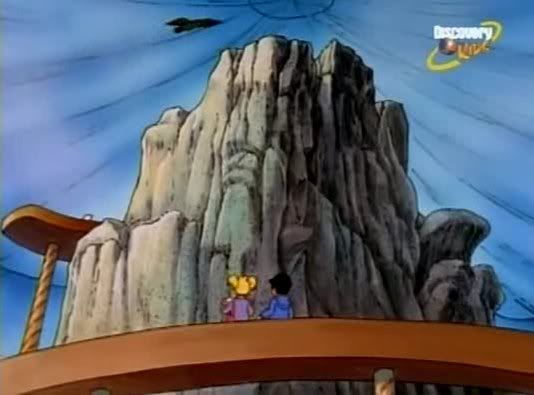 20. Because they hang out together when the Frizz gives them free time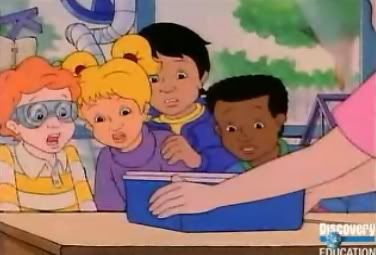 21. Because he grabbed her when the smell of rot was too much to handle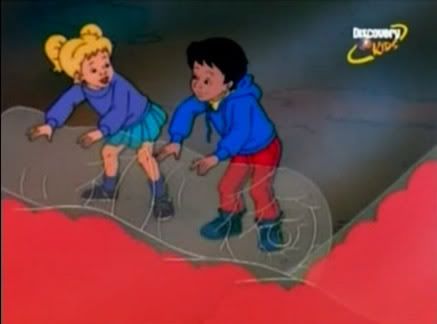 22. Because they "rolled up the ring finger" together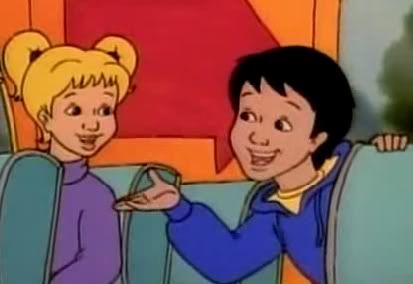 23. Because sometimes she's the only one who laughs at his jokes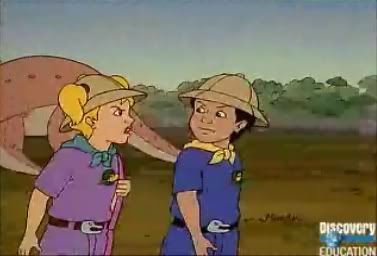 24. Because bickering at that age sooo means they're flirting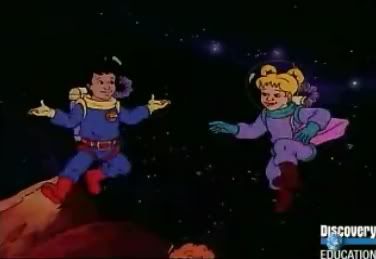 25. Because we all know it was really his idea to get her that star

26. Because he grabbed her leg

27. Because best friends make better lovers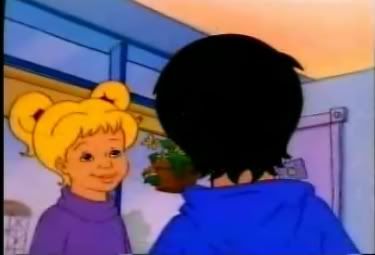 28. Because they got four whole episodes, and then some.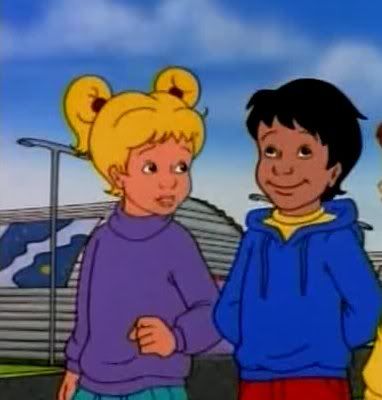 29. Because fighting is their only way to keep their hands off each other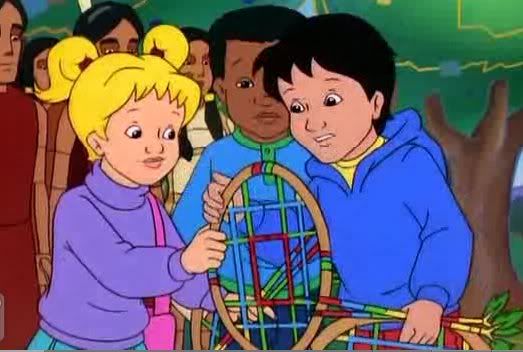 30. Because they challenge each other

31. Because they make each other think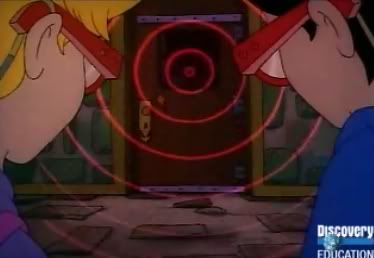 32. Because she cried out his name when he fell down the elevator

33. Because they locked eyes just before they found the source of the sound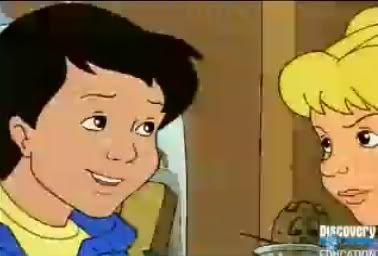 34. Because they agreed on "Rot Land"

35. Because he let her experiment with the vinegar and baking soda instead of getting cake ingredients

36. Because she couldn't have made the ant video without him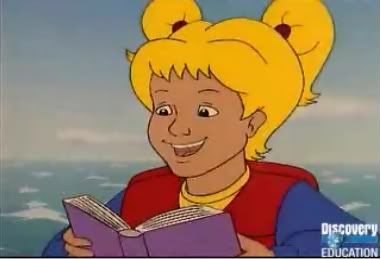 37. Because, "Stop! I can't take it anymore! You HAVE turned into Dorothy Ann!"

38. Because they were the stars in the chemistry episode

39. Because despite all appearances, Carlos does like reading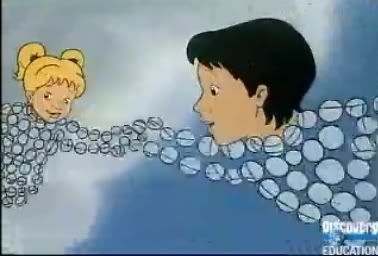 40. Because they've already held hands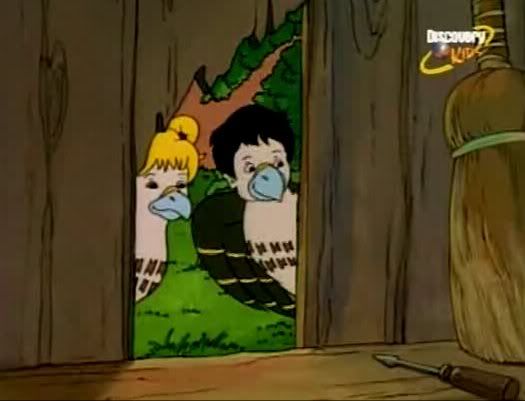 41. Because Peregrin Falcons mate for life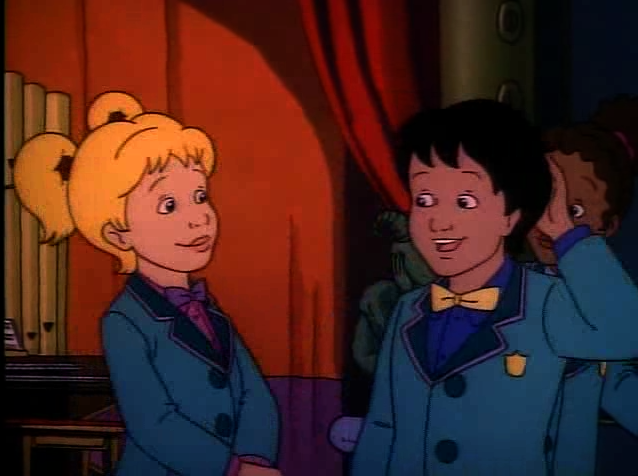 42. Because Carlos' reaction to D.A.'s hug was the cutest moment in the entire series
Couples That Remind Us of Carlos/D.A.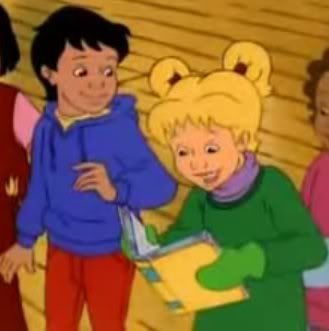 Han/Leia - Star Wars
Ron/Hermione - Harry Potter



Carlos/Dorothy Ann ABC's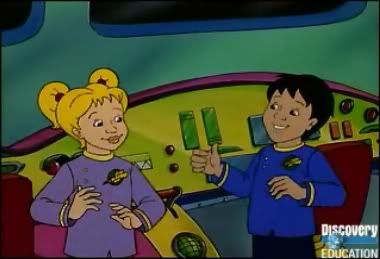 A is for adorable, which we all know they are.
B is for brilliant chemist, which Carlos knows D.A. is.
C is for crush, which both of these two have on each other, they just won't admit it yet.
D is for Dorothy Ann, and the nickname D.A. we all know Carlos gave her.
E is for engaged to be married, which they inevitably will be.
F is for the friends they were first and foremost
G is for great chemistry
H is for hug, which Carlos did in the chemistry episode, and DA did when Carlos made the perfect sound for her
I is for inevitable, which these two are.
J is for Carlos' jokes, which D.A. will eventually admit she loves
K is for know-it-all, which D.A. can be sometimes
L is for leg grab - resolving tension much?
M is for maturing, which Carlos will do eventually and win D.A.'s heart
N is for "nothing in common", which turns out, doesn't apply to them at all
O is for obvious - who didn't see it?
P is for the Perfect sound and the lovely things it causes
Q is for quite the cute couple :)
R is for resolved - which we hope C/DA's tension will be eventually
S is for sweet, which chocolate cake is
T is for together, and when they are it's too adorable
U is for UST, which Carlos and D.A. have TONS of
V is for volcano, and the discoveries Carlos and D.A. made about each other in and around one
W is for white, which contains all the colours of the rainbow
X is for the X-rated stuff they're sure to do once they grow older
Y is for young love
Z is for zeal, which they show when bickering with each other

The Carlos/D.A. Music List


01. "I won't say I'm in Love" - Disney's Hercules
02. "Chemicals React" - Aly&AJ
03. "Toothpaste kisses" - The Maccabees
04. "You and Me" Lifehouse
05. "Over And Over" - Three Days Grace
06. "Come what May" - The Moulin Rouge Soundtrack
07. "I Want To Touch You" - Rob Dickinson
08. "Rocketship"- Shiny Toy Guns
09. "Your Guardian Angel" - Red Jumpsuit Apparatus
10. "My stupid mouth" - John Mayer

-
C/DA Fanfiction:


Main Pair:

By EverAfter153 (strongly recommended for any new C/DA shipper - these are what got me into the ship):
Till Death Do Us Part » by EverAfter153
And So It Begins by EverAfter153
Beneath the Milky Moonlight by EverAfter153
Little Known Facts by EverAfter153
Above and Below by EverAfter153

Under the Influence by EverAfter153

Fear of Falling by EverAfter153


Some shameless self pimping - by MelonRinds:
By the Frozen Pond by MelonRinds
Lessons of Nature » by MelonRinds
Under a Jewelled Sky by MelonRinds
Now I Know There's Something More » by MelonRinds
Of Telescopes and Chemicals by MelonRinds
Sketches of Love » by MelonRinds

Bouquets and White Petals by MelonRinds

By Lianneharmony or Gilrean Narmolanya (same author):
The Most Perfect Girl in the Town of Walkerville by lianneharmony
A Portrait of Young Lovers
by
lianneharmony
(if you want it to be at least ;))
A New Friend
by
Gilraen Narmolanya
Sight
by
Gilraen Narmolanya
Peregrine Falcons Mate For Life
by
Gilraen Narmolanya

Other:

Why Is It? by IceyFreeze
Second Thoughts by Alana Smithy
A Taste of Elation by RedSharpie

Of Fictional Crushes and Grammatical Errors by EstellaB
Obviously Oblivious by Kitty-Euphoria
Car Troubles by Kitty-Euphoria
With No Quarrels by EstellaB

Lightning or Thunder? by WalkingAlong

Peragine Falcons 'N the City by WalkingAlong


Side pair/briefly mention/implied:
Sweet Sixteen by the ultimateSora
The Talent Show by Shimmering Turquoise Feathers
Of Spies, First Crushes and Sandwiches by Dclawed
Better Than Rocks by EverAfter153
This Is The Sound of Settling » by the ultimateSora
That's Who Phoebe Terese Was by the ultimateSora
Perlstein Versus Ramon by the ultimateSora
We Go Out In Stormy Weather » by the ultimateSora
Oblivious Reasons » by Omniskriba
The Life and Times of the Fantasmic 4 » by the ultimateSora
Into the Ordinary » by quirky cricket
Ten Things You Didn't Know » by quirky cricket
On The Dance Floor by Kitty-Euphoria
The Allure of a Cigarette by Kitty-Euphoria
Chapstick, Chapped Lips, and Things Like Chemistry by EverAfter153
June 21, 2008 » by quirky cricket
Contemporary Mysteries » by AudreyBrown
Truth or Dare and Seven Minutes in Heaven by lianneharmony
Gossip Girl in Walkerville » by lianneharmony

Phew - done!